How to setup and configure the Stripe Custom Module
To set up your Stripe Module for payment system:
1) Configure your HubSpot contact properties:
In your HubSpot portal, create a single line TEXT CONTACT PROPERTY named exactly like this: "Stripe Form: Transaction ID" (with no quotes).
2) Setting up the FORM:
Once you have created the Transaction ID field in your HubSpot contact settings, You will need to create a form that will be used by the module to display.
This form should have fields that you want to get information from. Like Name, last name, etc..
Then add a new field that contains the "Stripe Form: Transaction ID" created before. Set this field as REQUIRED.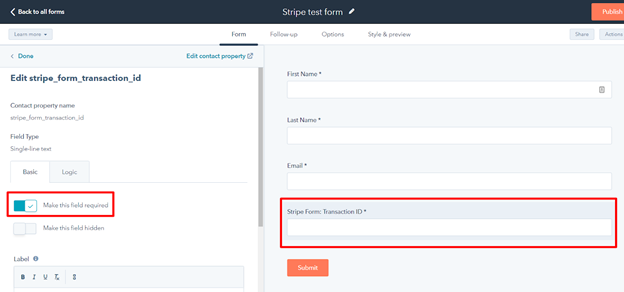 This field will be invisible for visitors, but visible from the form editor. This field will have a reference ID to locate the payment in the Stripe Dashboard.
3) Styling properties:
In the Style and Preview tab on the form settings, enable "SET AS RAW HTML FORM". You can now publish the form.
4) Generate your Codes:
You can now generate your required module configuration by visiting following URL in your browser :
https://us-central1-inboundlabs-test.cloudfunctions.net/il-stripe-handler?setup_stripe_key=YOUR_STRIPE_SECRET_KEY
Note replace YOUR_STRIPE_SECRET_KEY with your secret key.
The page will show "Token key" and "API URL" generated from your private key.
5) Set up your resulting codes in your settings:
you can copy-paste the generated codes( including the Token Key and API url) to your STRIPE module settings.
5) Select the FORM to use in the MODULE.

On your Module settings under "Choose a Form", select the form you created in the first steps.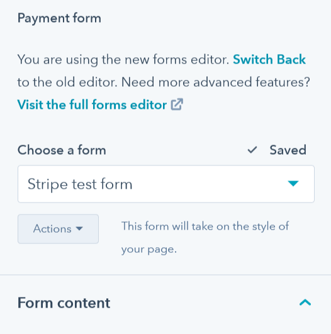 Now you can publish the page and test the module.